Toute action marketing se doit d'être mesurable. Ainsi vous serez en mesure de comprendre les résultats obtenus pour pouvoir adapter votre stratégie et apporter les correctifs nécessaires s'ils ne sont pas satisfaisants ou au contraire mettre l'accent sur ce qui fonctionne.
Il nous a donc semblé utile de revenir un instant sur cette notion d'indicateurs de performance, appelés KPI.
Suivez les bons KPI pour atteindre vos objectifs
Il paraît évident qu'une stratégie web efficace sera gage de réussite pour développer le chiffre d'affaires de votre entreprise. Là où le sujet paraît moins évident est la manière d'y parvenir.
Pour cela, il est important de définir les metrics que vous devez analyser selon votre tunnel de conversion. En Inbound Marketing, celui-ci est une représentation graphique qui vous permet de mesurer l'évolution d'un visiteur depuis son arrivée sur votre site web jusqu'à sa conversion en client voire en ambassadeur de votre marque.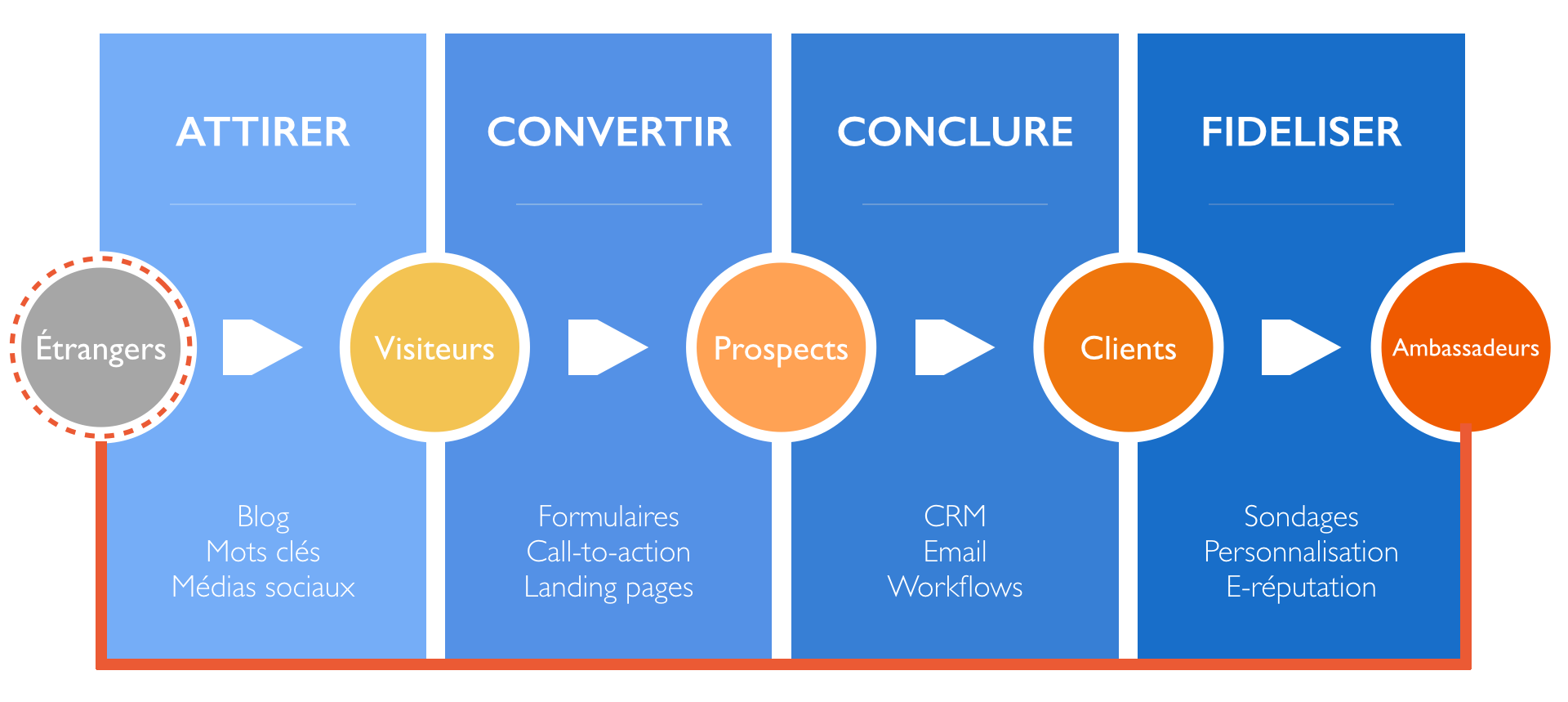 Sur la base de ce tunnel de conversion, nous allons vous donner des exemples de bons indicateurs de performance. Vous pourrez les suivre via des outils comme Google Analytics ou via une plateforme de gestion de données (dite DMP pour Data Management Plateform) comme celle d'Hubspot.
« Attirer » : Augmentez votre trafic
Évidemment qui parle d'objectifs d'acquisition de leads (ou prospects qualifiés) doit préalablement axer son attention sur le flux de visiteurs entrants sur son site web grâce à un travail de référencement efficace.
Visiteurs uniques : ce critère vous permettra de mesurer l'audience de votre site internet et notamment de distinguer les nouveaux visiteurs de ceux déjà connus. Il est intéressant de faire un comparatif entre 2 périodes choisies.
Taux de rebond : Point important pour vérifier si le contenu de votre site correspond bien à l'information que recherche l'internaute. Le taux moyen généralement estimé varie entre 50 et 60%. Au-delà, un travail d'analyse est nécessaire pour améliorer votre contenu et/ou la navigation de votre site web.
Mots clés : Il s'agit là de connaître les mots clés ou expressions les plus utilisés par les internautes. Ils vous permettront d'être bien positionné sur les moteurs de recherche. Ceux-ci correspondent-ils bien à votre cible ? Car il est primordial que vous choisissiez des mots clés stratégiques afin de permettre, au-delà de générer un trafic important, d'obtenir un trafic de qualité.
Pages les plus visitées : Vous pourrez ainsi corriger celles qui le sont moins en tâchant d'identifier la raison. Vous améliorerez ainsi votre position dans les résultats des moteurs de recherche (dit également SERP pour Search Engine Result Page)
Medias sociaux : Comme je vous l'ai déjà indiqué dans un de mes articles pour améliorer votre référencement naturel, les réseaux sociaux n'ont pas un impact direct. Mais ils sont un bon moyen d'augmenter le nombre de visites. Une astuce est notamment de créer un contenu adapté selon les réseaux sociaux. Ces derniers proposent aussi des groupes par métiers où vous pourrez retrouver vos personas et ainsi les inviter à consulter vos articles.
« Convertir » : développez la génération de leads
Il n'est pas tout que de générer du trafic, faut-il encore transformer vos visiteurs en prospects qualifiés. Il est question ici de mesurer les interactions, engagements des internautes vis à vis d'un contenu qu'ils ont considéré comme utile et pertinent.
Il est nécessaire de définir des objectifs de conversion tout en étant « smarketing ». C'est à dire qu'ils doivent être construits sur la base d'une synergie entre les actions marketing et commerciales.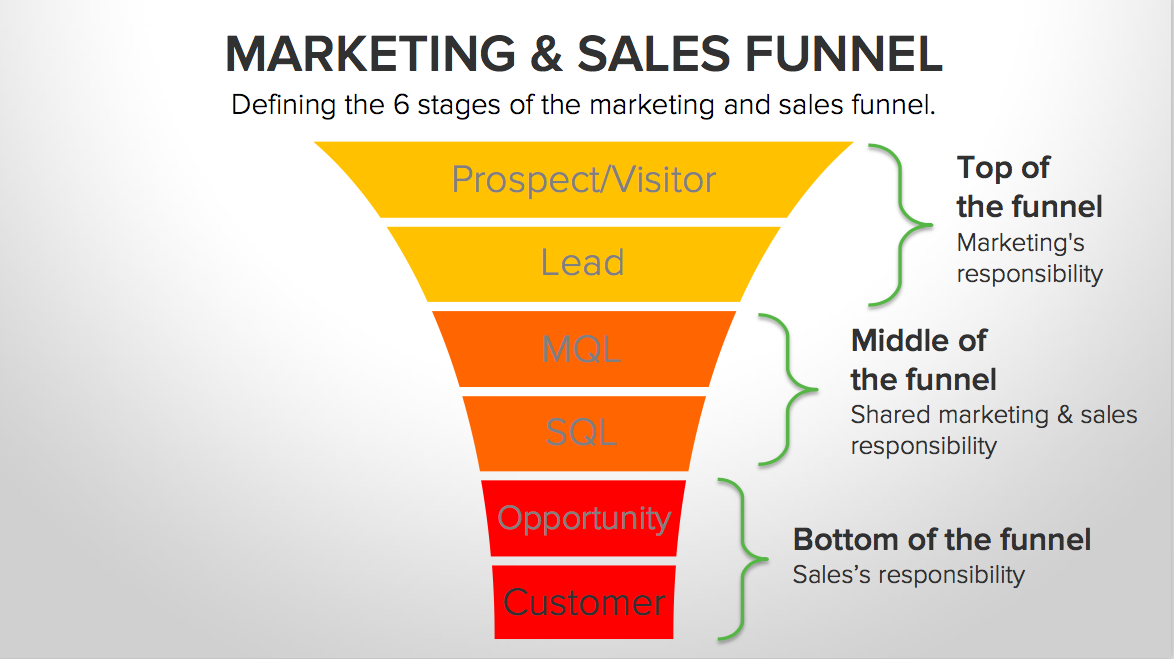 2 types d'indicateurs peuvent ainsi être définis :
MQLs (Marketing Leads Qualified) : nombre de leads obtenus par des interactions sur les offres de contenu proposés comme l'inscription à une newsletter, le téléchargement d'ebook, l'inscription à un workshop ou webinar, etc.
SQLs (Sales Leads Qualified) : À partir de ces MQLs, vous allez obtenir des leads « chauds » justifiant un contact commercial. Ils sont identifiables d'après un score prédéfini (appelé lead scoring) par une solution de gestion de données et considérés comme prêt à effectuer un acte d'achat.
NB : Pour plus d'informations, consultez notre article sur le Lead Management, expliquant la différence entre un lead marketing et un lead commercial.
Bien sûr, d'autres sont également à suivre pour analyser les conversions obtenus :
CTA (Call To Action) : Il est important de suivre les clics obtenus par les boutons que vous avez normalement positionné de manière stratégique dans vos pages web. Ceux-ci invitent au téléchargement de vos offres de contenus. Pour améliorer les résultats, vous pourrez modifier leur positionnement ou leur apparence pour être plus engageant.
Landing page : Identifiez les pages obtenant les meilleurs taux de conversion. Si certaines génèrent beaucoup de trafic mais peu de conversions c'est que vous devez revoir leur mise en forme.
Taux de clics (CTR) : indicateur suivi par exemple dans le cadre d'emailing. Les emails envoyés se doivent d'être personnalisés et adaptés aux centres intérêts identifiés par le comportement des internautes sur votre site. Cette tache peut être facilitée par la mise en place de workflows via une solution de Marketing Automation.
« Conclure » : Boostez vos ventes
Time to close : correspond au temps mis en moyenne pour convertir un prospect en client. Si celui-ci n'est pas satisfaisant, c'est que vraisemblablement vous devez revoir la construction de vos pages (pour optimiser la navigation du site) et revoir leur contenu.
Nombre leads convertis en clients : Les résultats sont d'autant meilleurs dès lors que vous avez su construire une relation (appelée aussi lead nurturing) grâce à une stratégie de content marketing appropriée. C'est un bon indicateur pour en vérifier son efficacité.
Chiffre d'affaires moyen : Cette information va vous permettre de justifier les actions marketing mise en place.
« Fidéliser » : Assurez-vous de la satisfaction de vos clients
Récurrence d'achat : Vos clients réitèrent-ils leur commande ? C'est une information intéressante pour identifier les futurs ambassadeurs de votre marque
Réseaux sociaux : À ce stade, le nombre de partage vous permettra de connaître les sujets porteurs, suscitant le plus d'intérêt et d'adapter en conséquence votre ligne éditoriale.